PRODUCT OVERVIEW

ROBOTIS PLAY 700 OLLOBOT is a reconfigurable and programmable robotics kit that introduces children to STEAM Concepts. Building upon the PLAY 600 PETs, the PLAY 700 emphasizes creative design using ROBOTIS' patented rivet system and adds two elements: programming and smart device connectivity. The controller included with the PLAY 700; the CM-50 is a motorized gearbox that brings your child's creation to live. It also includes built-in sensors so that children can learn programming via SCRATCH or ROBOTIS R+TASK. 
You can build up to 6 different robot figures with the ROBOTIS PLAY 700. The Puppy, Racecar, Windmill, Scorpion, Bird, & Bear can be built using the assembly manual included or the FREE R+DESIGN App which provides 3D Building Instructions and can be controlled using a smart device with our FREE ROBOTIS R+PLAY700 App.
Motorized, reconfigurable, and programmable robot kit.
Includes a simple assembly instruction manual.
Includes 1 controller (CM-50) with two-way output + IR & Sound Sensor
FREE R+PLAY700 App for sensor application through line tracing, line avoiding feature + Remote Control function via smart device.
PRODUCT NOTES
The product requires 3 AA batteries, batteries are not included.

The Bluetooth module included in this kit is 

the BT

-410

. This module is compatible with Android and Apple devices.

 

In order to use the BT-410 with a PC, please purchase 

the BT

-410 Dongle

.

Please purchase Item ## 903-0195-001 for your BT-410 Cable (

4P 120MM (Wireless Module) 4pcs

) if you need replacements.
KEY PRODUCT INFORMATION
Grade Level: 3rd - 5th Grade.
Lesson Hours: 6+
Number of Lessons: 6 Lessons
The student to Kit Ratio: 1:1 Recommended (Up to 2:1)
Curriculum Sample: ROBOTIS PLAY 700
Support & BOM Guide: Robotis E-Manual 
Software: SCRATCH, R+SCRATCH (Window Compatible) 
Ages: 8+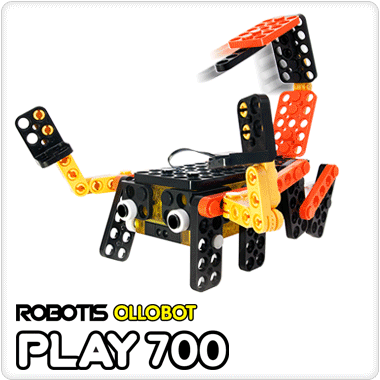 Software

PC Downloads:
Software: SCRATCH, R+SCRATCH (macOS, Windows Compatible)
Mobile Downloads:

PRODUCT is subject to the Original Manufacturer's warranty, repair, and return policy. 
30-DAY MONEY-BACK GUARANTEE 
If you are not satisfied with your 

product,

 you may return it within 30 days of receipt for an exchange or refund. The product must be unopened and in its original packaging. The customer is responsible for return shipping charges.
Unless otherwise noted, ROBOTIS warranties its products against defects for 1 year. Products that are not manufactured by ROBOTIS or are co-developed with ROBOTIS may not be covered under warranty.
Unless otherwise noted, ROBOTIS battery products with Lithium-Polymer chemistry (LiPo) are warrantied for 6 months from the date of purchase. "Over-discharge, misuse, or incorrect charging practices may void this warranty."
You will not qualify for a warranty or refund if there is normal wear & tear, abuse to the product, improper tampering, or accidental damage.
Worn out gears, burnt motors and PCBs, and damaged cables are not covered under warranty.
Modification of the Dynamixel Firmware to disable Error Status or Shutdown Alarms may also void our warranty.
Please back up source codes and files in the product before requesting RMA. ROBOTIS is not responsible for any software and file loss in the product.